Planning to remodel your home on a budget can be draining. You must carefully identify the spaces you need to renovate, besides sourcing the suitable materials and the requisite workforce for the job. Most importantly, you must keep a keen eye on the cost of everything you need for the remodeling project.
Take care to keep your intended budget manageable when renovating your home. However much you admire the exquisite, gray kitchen cabinetry, you just saw at the furniture shop, avoid impulse buying as much as possible. Below are eight home remodeling ideas that can easily give your home a stylish look on a budget.
Beautify Your Home Entrance.
We often use millwork to enhance character in the rooms within our homes. Hence, you can also use it to improve your curb appeal. Transferring some elements of your indoor style outdoors can give your exterior a chic look. Try framing your front door with some millwork, and give it a new shade of paint that resonates with the exterior of your home.
Give Your Fireplace A Makeover.
A fresh coat of paint is enough to give your dull fireplace a modern facelift. However, before you apply the paint, ensure you clean the fireplace meticulously to get rid of grime. After cleaning the fireplace, use a stain-blocking primer on it before painting. The primer will help cover any visible soot stains. We recommend choosing high-gloss paint to give your fireplace a stylish, contemporary appearance.
Increase Accessible Kitchen Storage
Regardless of the size of your kitchen, ample space is always an added advantage. You can mount open shelves on unclaimed corner spaces or walls within your kitchen to offer you enough space to keep your spices, dishes, and commonly used utensils within easy reach. If you occasionally entertain visitors in your kitchen, consider mounting a wine rack under or next to the upper cabinets.
Avoid Clutter At The Entry Point
The entryway is one of the first spaces guests see before entering your house. Hence, it must give an excellent first impression by looking tidy. Crafting a multipurpose storage system can outfit your entryway with an additional function. Use furniture creatively to offer multiple functions, such as having a bench doubling as a shoe caddy. To make your entrance more orderly and welcoming, you can apply other storage solutions, such as cubbies, lockers, and hooks.
Enhance Your Space with Attractive Lighting
Appealing light fixtures always go a long way to give any space an energizing and soothing touch. Use brilliant designs to ease any eye-intensive tasks. You can make light layers with ambient, accent, and task lighting. A unique decorative lighting, pendant, or chandelier creates instant sophistication in a room. Besides making a style statement, such a fixture becomes a source of targeted light for a particular space, like a dining table.
Refurbish the Shine on Your Wooden Floor
Few flooring materials can match the versatility and warmth of wooden floors. However, your wooden floor may look dull and uninspiring due to constant exposure to high foot traffic, dust, and dirt. You can quickly refurbish the shine of any wooden floor by polishing it using the right product for hardwood floors. Ensure that you polish your wooden floor once annually. However, polishing every four to six months is advisable if it is exposed to high foot traffic.
Install a Sink Filter in Your Kitchen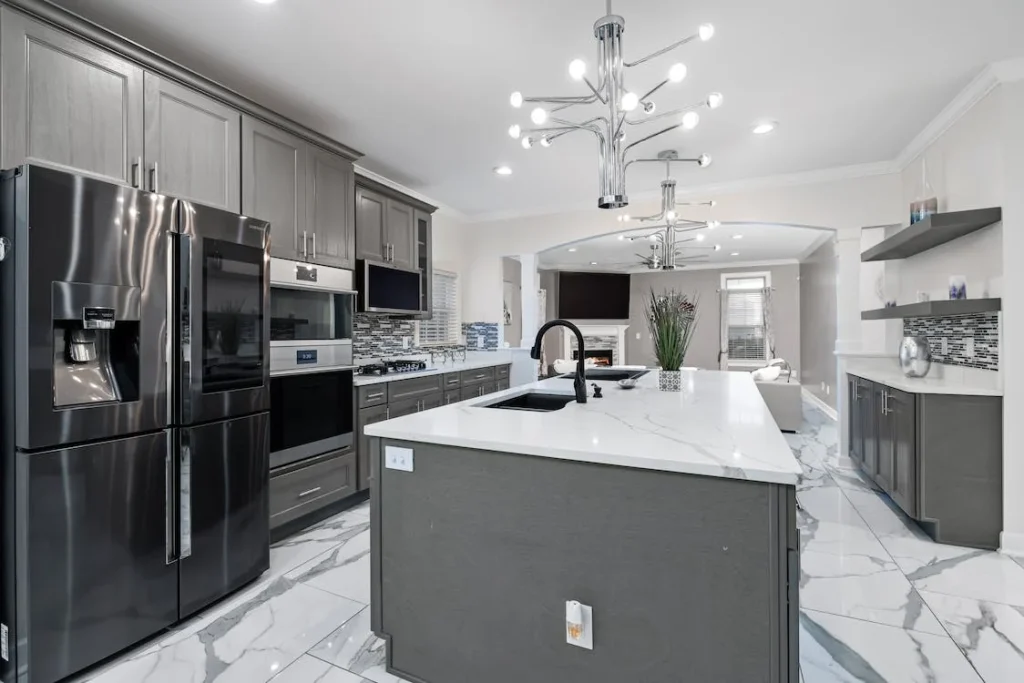 Consider installing an under-sink filter in your kitchen to supply purified and good-tasting drinking water without cluttering your countertop or sink. Installing a water filter is something you can do without necessarily having to hire a professional plumber. However, you must ensure that the under-sink space is big enough to fit the water filter system.
Ensure Your Carpets Are Professionally Cleaned
Have you had your carpets adequately cleaned of late? Chances are, you don't remember the last time you cleaned them. Rugs are some of the most ignored household items for thorough cleaning. As part of your home remodeling, spare some cash to have all your carpets systematically cleaned by a professional. Such a move will revive your carpets' original look and safeguard your family's health.
While weekly vacuuming can remove superficial dust, dirt, hairs, and fur, professional carpet cleaning will eliminate dust mites, food debris, allergens, grit, and stubborn stains. Begin with the carpets in high-humidity areas of your home to combat mildew and mold growth.
Conclusion
Hiring a remodeling contractor is unnecessary to give your home the much-needed makeover. Several low-budget home upgrading actions can help you quickly transform your abode. Turning often-neglected spaces within your home into relaxing and attractive sanctuaries is possible.
Try some of the affordable remodeling tips enumerated above, and you will not regret it. Their impact on making your home look stylish and inviting might surprise you.