Are you ready to step up your TikTok game and skyrocket your video views? You are at the right place. You must have already tried different innovative and unique ways to increase the views of your videos, but they still get lost in the sea of millions of other videos. To cope with that, merely adding great content, using effective hashtags, and utilizing trending sounds won't help. You need to implement effective TikTok SEO, which can optimize your videos for particular keywords and make them rank higher in search results. It's similar to adding keywords in blogs to rank higher in SERP results. Moreover, with the latest updates and changes, TikTok videos even get indexed on Google's SERP of google and get triggered when someone searches for your keywords. In this blog, we will discuss the top strategies for optimizing your videos for SEO to level up your TikTok game.
What is TikTok SEO, and Why is it Important?
TikTok SEO is basically the practice of optimizing your video using various tactics to appear higher in search results for TikTok. TikTok is not a search engine, but it also contains a search box where users can look for their favorite creators, genres, videos, sounds, trends, hashtags, challenges, etc. To ensure that your videos are shown on relevant keywords, optimizing them for SEO is important. Earlier, TikTok was a platform just for fun and entertainment, but today, it is no less than a search engine that has valuable information about everything from job interview tips to recipes to educational videos, etc. According to Google's own data, about 40% of young adults in the US (aged 18-24) prefer TikTok over Google Search for searching things like places for lunch near me or even other types of content. Proper SEO optimization not only helps your videos get targeted for specific keywords when they are searched but it also gets exposed to the intended audience on the "For You" page.
How to do TikTok SEO?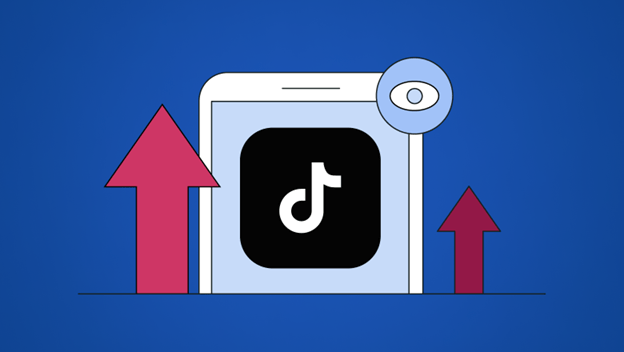 TikTok's algorithms consider a number of factors when deciding which videos to show users on the particular keywords. A well-optimized title and description play an important role in increasing the chance of your video getting targeted on niche keywords and standing out from the crowd. Have a look at some of the best tips to optimize your TikTok videos for SEO and increase their views.
Understand your Audience Needs and Search Intent
To optimize your content for SEO, the first thing is to identify and understand your target audience and their needs. Understand what their specific interests and preferences are and what they are searching for in your niche. Plan and create content ideas with your target audience in mind and align your ideas with their demands. Whether you are a career counselor, a travel guide, a designer, a fitness trainer, or even a general creator, studying your audience helps you understand their search intent and optimize your content based on that. To do so, the best thing you can do is search for the hashtags related to your niche and check the number of posts under that. Besides that, competitor research is another most valuable method to understand the audience of your niche. Check their comment sections to figure out what users want from them. This can help you take an early-mover advantage and increase the chances of getting more views.
Research and Select the Right Keywords for Your Content
Once you've identified your target audience and their search intent, the next thing is to find and research the keywords they must be searching for related to your niche and brand. Check which keywords and hashtags are popular using tools such as the search box on TikTok. For example, if your genre is iPhone hacks, you can simply type this in the search box, and TikTok will give you longer popular terms related to that. Select keywords that are easy to find, have a large search traffic, and are relevant to your content. Using relevant keywords is important to tell TikTok algorithms about the genre of your content. When you select the right keywords, your content gets exposed to the relevant traffic, which ultimately increases views. However, remember that for new accounts, it's tough to get the desired number of views even after using the right keywords. Therefore, it's best to buy TikTok views from an authentic website to give your account the much-needed initial boost.
Incorporate the keywords into Title and Description
The next important thing is to add the selected keywords to the title and description of your video. To do that, firstly, write a catchy and concise title for your video and include one or two relevant keywords in that. Ensure that the title looks natural, not keyword stuffed. Then comes the description part, which basically provides users with the context and content of your video. Write a creative description telling the audience what your video is about. Ask questions that pique curiosity among the audience and increase engagement in the comment section. Include the appropriate keywords in the description to tell TikTok algorithms about the niche of your content and help it get exposed to your target audience only. Try using trigger words like guaranteed, effortless, ultimate, imagine, etc., to prompt users to take action. Besides title and description, ensure you use keywords in automated closed captions, voice, captions, hashtags, and in-video text to make your videos more relevant and outshine competitors.
Use Trending and Niche Specific Hashtags
Find and include trending and niche-specific hashtags into your video description to increase its reach and exposure to the relevant audience. Generally, TikTok allows users to "subscribe to" or "favorite" various hashtags they like. Therefore, when you add such hashtags in the description, your content is more likely to appear on their "for you" page, which ultimately increases the views of your video. You can even use long-tail and high-volume keywords as hashtags to build your traffic and increase views and likes. However, avoid using too generic hashtags that have no connection with your content, as they can degrade your content's credibility. Make a strategic combination of brand, trending, and niche-specific hashtags and incorporate them to maintain relevance and credibility.
Conclusion
TikTok SEO is a trend that will evolve even more in the future and will become mandatory not only to thrive but also to survive on the platform. With the expanding number of TikTok creators, performing something different that others aren't is crucial. TikTok SEO is one such strategy that is still underestimated and not used properly. SEO optimization of TikTok videos increases your chances of being listed in search results and getting an appearance on the targeted keywords. Optimization strategies not only enhance your visibility but also increase views, likes, comments, and followers. Follow the above TikTok SEO optimization tips and level up your TikTok game today!