The demand for traditional tools like direct mail and cold calling has shrunk with digital real estate marketing. These days, you can do property listings and home showings without leaving your home.
However, shifting to digital transactions often leaves an essential element in real estate: meaningful interactions. In cases where everything is done virtually, it pays to complement digital methods with direct mail marketing. When done together, investors and real estate agents may soon find their efforts yield better results than using either platform.
Real estate marketing strategies require a mix of traditional and online tools. Understand how direct marketing strategies work for you and why you need to use them.
Why Should You Use Direct Mail Marketing?
As a traditional advertising tool, direct mail marketing involves sending any tangible item to your prospects and existing customers to attract new clients and retain existing customers. Postcards, calendars, flyers, brochures, ref magnets, and other items are often used to carry the company's call-to-action (CTA) message and contact details, including office address.
In the real estate sector, this strategy can show photos of available properties for rent or sale. This method can also work for those who don't have access to computers all the time. Direct mail marketing is reasonably straightforward. You only need to prepare your CTA messages and other content, print them out, and send them using customized mailing lists for real estate companies. The mailing list can be customized based on your preferences and needs.
Here are some reasons direct mail marketing is still beneficial for real estate companies:
Helps Catch And Keep Your Prospects' Attention
Capturing users' attention online is exceptionally challenging due to intense competition. So, it would be helpful to have other means of reminding buyers that your real estate company exists and you have irresistible offers.
One of the most attention-grabbing strategies you can use is to localize. For instance, printing photos of properties located in coveted communities in your locale may grab the attention of renters or couples looking to get a new home. In addition, prospects are likely to trust you knowing that you're from the area and are familiar with the local real estate scene.
Opt for items your prospects and clients will find valuable when choosing the medium to send them. Flyers and brochures may be too easy to throw away after reading. Consider a calendar, a paperweight, and other items you can find on an online printing service that they can put on displace or keep.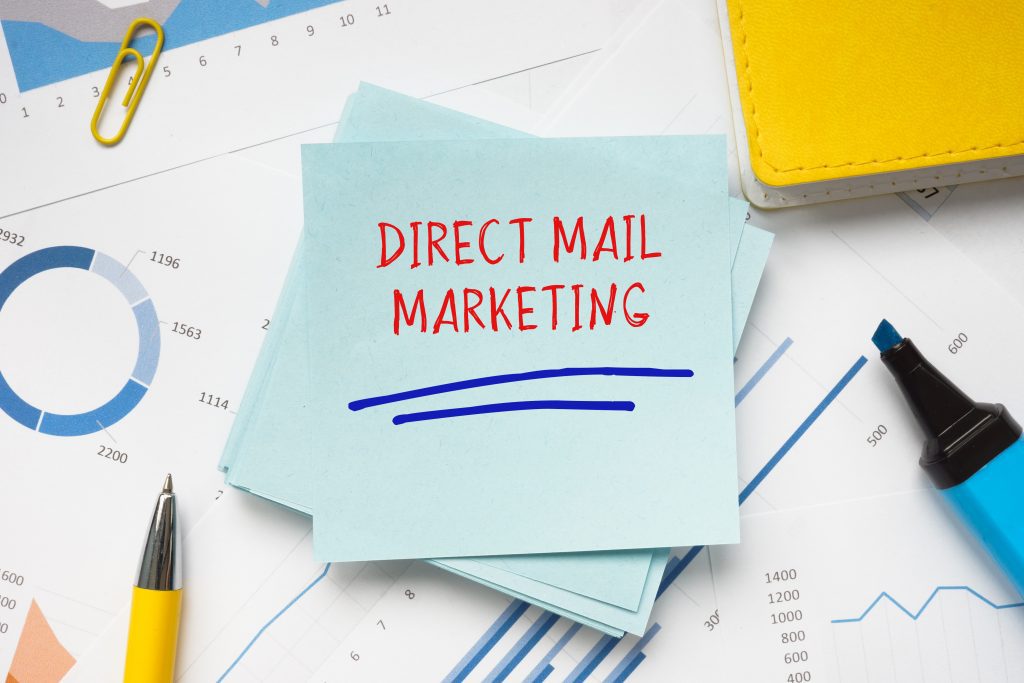 Can Boost Your Drip Campaigns
Although drip campaigns are considered one of the more targeted digital marketing strategies you can employ, you can boost your efforts by using direct mail advertising.
Drip campaigns refer to a series of automated emails targeted at multiple people you can place at various levels of the conversion process, including those close to purchasing any of your offers. You don't just send generic marketing stuff in a drip marketing campaign. Instead, you need to customize your messages and CTA based on the kind of emails you're sending out. These can be newsletters, promotions, retention, or acquisition mails that are scheduled accordingly.
Hence, you'll have different content meant to attract new clients or convince buyers with abandoned carts to purchase your items, or have them attend an event at your store. The same holds for your real estate company. You'll need disparate key messages for potential leads and buyers who have contacted your real estate company for queries on specific properties. You may send electronic and direct mails to get the message across more effectively.
Helps Establish Long-Term Relationships
Generating leads for your real estate company is crucial, and so is building long-term relationships. Real estate companies must establish meaningful relationships with their clients to get their trust by selling products and services. Remember, though, that gaining buyers' trust takes time.
Most real estate transactions aren't one-off deals. The United States Census Bureau has discovered that an average American moves 11 times in their entire lifetime. Real estate agents must capitalize on this fact by cornering a market of potential repeat clients.
Using direct mail helps companies get in touch with clients more personally. It serves as a tangible reminder that you're just one call away if they need help looking for their next property.
More Effective In Amplifying Your Messages
If you have time-sensitive offers and irresistible deals, you'd want to get the message across and have them easily remembered by your prospects at the same time. Although you can pay for more frequent advertising runs, having the information printed on various promotional materials may be better.
Because they're highly visible, your prospects are reminded of your core messages more often. More importantly, it helps them retain information better, leading to a more successful campaign.
Conclusion
As businesses embrace technology, some traditional practices shouldn't be abandoned entirely, especially in marketing. Virtual advertising has been proven effective and less cost-driven than direct mail marketing. However, employing the latter to boost your efforts can be a worthwhile investment.