When you mention running a bar, most people think of loud music and big crowds having a good time – but that's only part of it. To be successful in your venture, there is more to consider than just what type of drinks will go on the menu and who will provide entertainment. Running a successful bar takes careful planning and thought about everything from location to financial management, staffing decisions, to understanding customer expectations – it all plays an important role in making such businesses thrive.
In this blog post, we'll explore some of the top things you need to know before deciding how best to run your establishment.
1. Purchasing Commercial-Grade Supplies
As a bar or restaurant owner, having the proper commercial-grade supplies is essential to running a successful and profitable establishment. Investing in high-quality bar equipment such as glassware, ice machines, blenders, draft systems, and refrigerators is the best way to ensure guests have a great experience when they visit your business.
Good-quality equipment looks nice and functions properly for optimal customer satisfaction, but it also cuts down on long-term costs due to its increased durability. Ensure you have a quality spirit dispenser to ensure efficient drinks service and a good selection of beer kegs to attract customers who favor craft brews. Lastly, do your research before investing in new products, as you want to ensure you get the best value for your money.
2. Understanding the Licensing Requirements
If you are considering opening a bar, you must understand the laws, rules, and regulations associated with doing so. The licensing requirements vary from state to state and even locality to locality. Researching these thoroughly before acquiring any property or even just sketching out floor plans is important.
Some of the questions you should ask include whether there are zoning regulations specific to bars in your area, what type of licenses you need to achieve to serve alcohol, and how many employees will ultimately be required for the day-to-day functioning of your establishment. Getting the information correct before making significant commitments can save time and money.
3. Finding a Suitable Location
Locating the right spot for your business can be a challenge, especially when you must think of accessibility and every other important factor to consider. However, you must find a large enough space to provide the necessary room for your patrons and refrain from interfering with customers' access or enjoyment of the experience.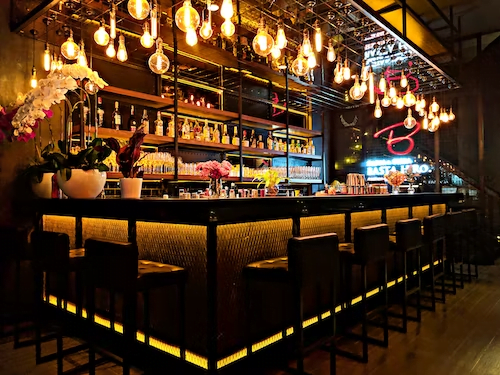 Additionally, if there is yet to be a parking solution nearby, you may need to source one by means of another location or discount arrangement. Make sure that the space you choose is in proximity to your target market so they can easily access your business. With all these steps considered, choosing a suitable location can become far easier than first imagined.
4. Securing a Liquor License
Securing a liquor license is an understandably vital step for those looking to serve alcohol in their business. However, it can also be time-consuming. A number of permits and paperwork need to be acquired before launching such a venture. The specific documents required can vary depending on the state or county where it's being done, so it's always a good idea to contact your local governing body and inquire about the exact steps needed to secure a permit.
In any case, doing due diligence on this issue pays dividends. Ensuring all proper protocols are followed may seem daunting, but getting through it early means fewer headaches – not least when it comes time to renew the license.
5. Hiring Qualified Staff
Managing a successful bar staff starts with being thoughtful and selective when hiring. You want to find the right balance of talent and personality while ensuring they have the qualifications. The best candidates will have a strong knowledge of beverages, customer service, and bar protocol.
They should understand how to use all equipment for making and serving drinks properly. Being able to train our staff before we open can help ease any worries – as well as ensure our operations will be top-notch when we first launch. With the right staff on board, your business is poised for success.
6. Crafting A Unique Atmosphere and Menu
To stand out among the competitors, consider crafting a unique atmosphere and menu to attract customers. An interesting atmosphere is essential to make people come into your business; use comfortable seating and decorations that evoke familiarity and comfort. Customize your menu by adding drinks and snacks that set you apart from other businesses.
Developing flavors and recipes specific to your shop can create an exciting new experience for returning customers and entice new ones. Ultimately, the thoughtful ambiance and customized menu items can be a great way to bring customers in the door and encourage loyalty to your brand.
7. Promoting Your Business
After you have your bar or restaurant up and running, it's important to promote it to bring more customers in. Utilize social media platforms such as Facebook, Twitter, and Instagram to reach new people interested in your establishment. Additionally, consider setting up a website with all the relevant information – hours, menu items, and contact information – so potential customers can learn more about your business.
Finally, creating a discount or loyalty card program is a great way to encourage people to return. With the right promotion and marketing techniques, you can easily draw in new customers and build up your clientele base.
8. Building Relationships with Local Businesses
Connecting with other businesses in the area is a great way to create an even larger customer base. Consider collaborating with nearby restaurants, pubs, and local event organizers. You can promote each other's businesses and cross-promote events for maximum success.
Additionally, consider hosting special events at your establishment, such as wine nights or live music. It could be a great way to gain exposure and let people know your bar is the place to be. By forming strong relationships with local businesses, you can create an even more vibrant atmosphere for your customers.
Ultimately, following these steps can help you launch a successful bar or restaurant. With appropriate license acquisition, good-quality commercial equipment, qualified staff, a unique atmosphere and menu items, and effective promotion strategies – your business will be well on its way to becoming a successful venture.