In recent years, there has been significant advancement taken place in the world of technology. It is become easier to access drones and quadcopters. As time has passed, the designing and manufacturing cost of drones has gone down and made it so more people can take up drones for different purposes. Are you a photographer or love to click photos? There is no better way to take pictures with your mini and portable drones and get amazing videos of different adventures. Or are you looking for a drone that is a bit easier to handle and durable for your children? But which type of drones can fit best in your daily lifestyle? In this article, I am going to share some affordable and easy-to-carry drones and quadcopters that you can use with your family or fulfilling your hobby.
1. For Indoors: Nano Drone – Fineco FX-1
Want to fly inside? Then you are going to love this drone. Equal to the size of a matchbox, this drone can flip to 36-degrees and whizzes all around the house. Don't know how to operate this indoor drone? No problem it is quite easy to operate and doesn't leave any damage after crashing into something. The battery of Fineco FX-1 requires 30 minutes to charge fully and can last for the flight of 5 to 6 six minutes.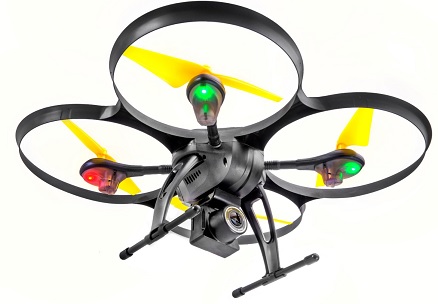 2. For Beginners: Altair 818 Hornet FPV Drone Camera
Are you looking to buy a drone for your kid? Is there any camera drones that can easily be operated by your children? Yes Hornet FPV Drone Camera is specially designed for kids. Made up with highly durable material, this drone camera is stable enough to stand up without any damage after many crashes. With the battery charging time of 110 minutes, this drone can take flight for a little over 15 minutes.
3. For Selfie Addicts: Pocket Drone Quadcopter
In today's world, almost everyone is a lover of selfies, and with this selfie pro quadcopter, you can take your selfies to the next level. This drone is easy-to-carry and light, weighing in at less than a pound in weight. App control, compass control, self-timer, avoid hindrances and three-speed modes, this pro selfie drone allows you to take selfies from any angle.
4. For Pros on a budget: Yuneec Breeze
If you would like a little assistance with flying, then this Yuneec Breeze is the best choice for you. This drone camera has multiple features such as journey modes for covering a specific distance, a pint-sized camera that allows you to capture everything from 5 flight modes, back zoom option for a dramatic selfie, and set fixed location for taking a selfie with your family. With 4k images and 13 megapixels of the camera, you can move this drone in orbit for making a dramatic video of your track.
5. For Pros with a little more to spend: DJI Phantom 4 Pro Drone Quadcopter
Want to capture photos of your trips and want to take selfies with your buddies? This DJI Phantom 4Pro drone is the best companion during your travels. With the 20 megapixel camera, this is pro selfie drone that allows you to take a selfie from five flight modes. This quadcopter also has the option of covering considerable distance so that you can take daring footage of your adventures. Hopefully, this article shown you that there is now a drone for everyone and the hardest part is not finding one but choosing the right one to fit your lifestyle and needs.